www.thisfabtrek.com > journey > europe > russia
share
Russian Federation,
Российская Федерация

.
Russian Highlights.
Pictures link to stories!

Where I ran out of fuel, suburb St. Petersburg.

St. Petersburg, water way.

Cjurch of the Savior on Spilled Blood. St. Petersburg.

Twins in St. Petersburg, gumboots in puddle, beach and waterfront in back.

St. Peter and Paul cathedral, St. Petersburg.
Russia.
Is a joke, only covered so little ...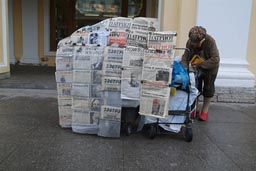 St. Petersburg to Helsinki.

Comments
Postings by readers don't necessarily represent my own views. I delete what I deem inappropriate. So be fair, don't swear. Discuss photography, travels, places, politics, whatever faintly touches the subject of the page.
www.thisfabtrek.com > journey > europe > russia