www.thisfabtrek.com > journey > europe > austria > 20040503-vienna
share
Spread the word.
I resigned today. But now the real work, preparing for day X, when I leave Vienna for a long time, is about to begin. But first get that Outlook going to dispatch the joyous message to all the people, current and former friends and work colleagues.
Testing my GPS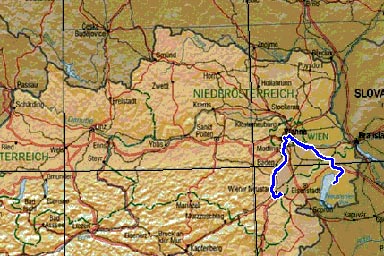 Click to enlarge.
A tour I have taken to my Land Rover garage south of Vienna, and to Podersdorf on Lake Neusiedel.
This is what it should look like later.
PS.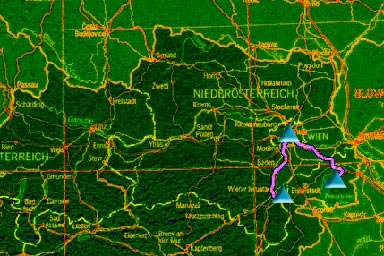 Click to enlarge.
Later I would convert the maps to something like this.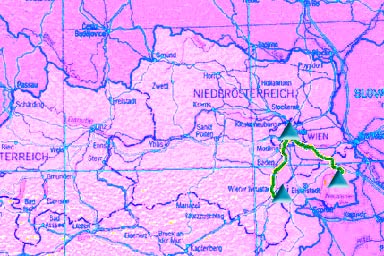 Click to enlarge.
Or something like this.
Or even later using google maps to something like this.

Comments
Postings by readers don't necessarily represent my own views. I delete what I deem inappropriate. So be fair, don't swear. Discuss photography, travels, places, politics, whatever faintly touches the subject of the page.
Awesome
Hallo Maschi, ich weiß nicht ob Du das hier liest, egal. Damals war ich mir nie sicher ob du mich auslachst oder nur auf mich herabschaust und denkst, du armer dummer Saleswurm, auch egal. Heute muss ich sagen, das hier ist unglaublich geil!! Ich habe wirklich erst vor 2 tagen davon erfahren und kann einfach nicht glauben was für einen Trip du da gemacht hast? Egal. Dafür, und nur dafür respektiere ich dich, und nicht den Scheissbanker der du mal warst, gut im Job aber überheblich und arrogant. Oder ich hab's einfach nicht gepeilt damals, kann auch sein. Egal, egal, egal. Mann, das hier ist das größte Kino was ich je gesehen habe, und auch wenn ich nur ganz weit aussen am Rande deines Universums schwirre danke ich Dir für die Gänsehaut die habe wenn ich deinen Blog lese. Wann immer du nach Luxemburg kommst möchte ich Dir ein kaltes Cerveca anbieten hombre! Und dann musst Du mir erzählen von den Abenteuern von denen alle träumen und (fast) keiner sich traut sie zu unternehemn, du crazy bastard! Dennis.
#0 - Dennis - 08/24/2013 - 16:08
www.thisfabtrek.com > journey > europe > austria > 20040503-vienna