www.thisfabtrek.com > journey > asia > syria
share
Syrian Arab Republic,
الجمهورية العربية السورية

.
Colors of Syrian Highlights.
Pictures link to stories!

Tetrapylon at dusk, Palmyra, Syria Nov 2009.

Collonades, decumanus, Syria Nov 2009.

Sunset and moonset, Syrian desert on road to Palmyra.

Bedouin children, Euphrates valley, Syrian desert Nov 2009.

Syrian desert, irrigation channels.

Friendly in ar-Raqqah, Syria Nov 2009.

Saint Simeon Stylites.

Mosque and church, dusk, Aleppo.
Syria, back after 22 years.

Highlights.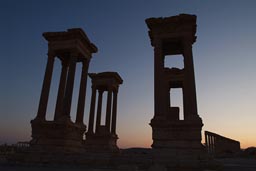 Palmyra, Nov2009.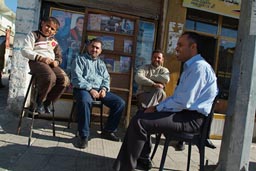 Aleppo to Deir az-Zor, Nov2009.

Comments
Postings by readers don't necessarily represent my own views. I delete what I deem inappropriate. So be fair, don't swear. Discuss photography, travels, places, politics, whatever faintly touches the subject of the page.
www.thisfabtrek.com > journey > asia > syria